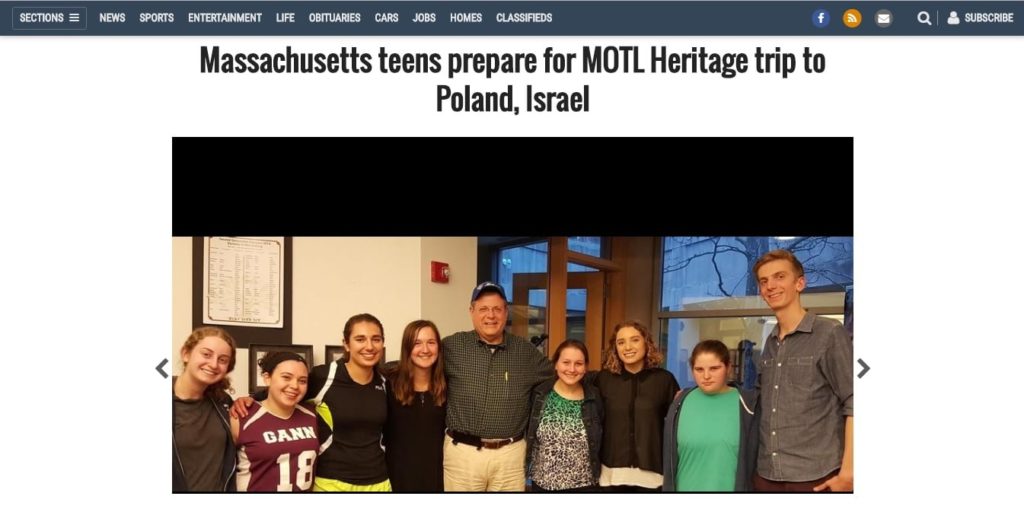 Although the 2016 edition of the International March of the Living (MOTL) takes place May 1-15, planning has already begun for the 2017 trip that brings high schoolers to Poland and Israel.
MOTL 2016 brought nine Massachusetts teens and one from Connecticut along with 14,000 others ages 17-18 from 45 countries on the itinerary.
Now in its 28th year, MOTL gives participants an opportunity to explore their heritage and history on two continents. The trip coincides with Holocaust Remembrance Day, which the group marks in Poland with a tour of a Nazi concentration camp, followed a week later in Israel with Israel Memorial Day and Israel Independence Day.
MOTL Massachusetts chair Irv Kempner, of Sharon, a son of Holocaust survivors who has been on the adult portion of four previous MOTL trips, led fundraising for scholarships making it possible for many of this year's students to participate.
"By starting earlier, we hope to raise awareness and recruit and support more teens in 2017," said Kempner. This year, 20 individuals contributed, and, combined with matching grants from the Kempner Family Foundation, scholarships totaled $22,000.
To call attention to MOTL and as a special incentive to prospective donors, Kempner is offering copies of his 91 year-old mother's autobiography, "Always Good With a Needle: My Journey from Radom to Redemption" by Marlene Freidenreich Kempner.
For donations of $500 or more, donors receive a free copy. Donations of $1,000 will be matched dollar for dollar by the Kempner Foundation. Donations may be made online. Proceeds from book sales will fund scholarships. Books can be order from Amazon and cost $15 per copy.
This year's participants are, from Maimonides School in Brookline: Nava Winton, Daniel Smits, Julia Perlin and Shira Wald; from Gann Academy in Waltham: Yael Sternberg, Natan Charytan and Olivia Mamane; from Sharon High: Tovya Goodwin and Halle Lurie; and from Connecticut: Ari Zackin.
The region's MOTL Steering Committee includes: Lynn Brandes; Aaron Kischel; Shani Winton; and Holocaust survivor Sidney Handler; Jana Brenman, director, director of Teen Engagement at the Jewish Alliance of Greater Rhode Island; Sara Ades Goodwin, Massachusetts MOTL development director; and Stanley Hurwitz, public relations and marketing consultant.
For more information about donations to and/or participation in future MOTL teen or adult options, visit the organization's website or contact Irv Kempner: IrvKempner@gmail.com. See highlights of the 2015 trip: