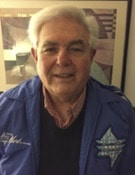 Well-known community activist takes on new challenge
BOSTON, MASS. (Issued January 2018)  —  Lifelong community activist and noted businessman James 'Jimmy' Slovin of Foxboro has been named Major Gifts Officer for the Massachusetts Chapter of March of the Living (MOTL), an annual educational and inspirational program that brings Jewish teens  from all over the world to Poland and Israel to study the history of the Holocaust and to examine the roots of prejudice and hate.
Making the announcement was Irv Kempner of Sharon, Chair of MOTL's Massachusetts Chapter. Since its inception in 1988, the international MOTL program has brought 260,000 teens from 52 countries to experience their history and destiny, and to strengthen their connections with their religion, people and Israel. The Kempner Family Foundation is a key supporter of MOTL's scholarship program that enables more teens to participate.
On the appointment, Kempner said, "I've known Jim for over 20 years and worked with him on numerous highly successful fundraising campaigns and events. His knowledge of and commitment to the Jewish community are unmatched. He is a stalwart addition to the MOTL team."
The timing of the upcoming trip, April 8 – 22, 2018, holds special significance. Participants will spend Holocaust Remembrance Day (Yom Ha-Shoah) in a march from Auschwitz to Birkenau concentration camps in Poland led by Israeli President Reuven Rivlin.  Then, just days later, they will celebrate Israel's 70th Independence Day (Yom Ha'atzma-ut) in Jerusalem. Being in Israel's capital will take on added meaning since the U. S. announced at the U. N. its plans to move its embassy from Tel Aviv.
On his new role with March of the Living, Slovin said, "I'm concerned about Jewish continuity and how to inspire our future leaders. I'm concerned about organized anti-Israel and anti-Semitic activities on college campuses orchestrated by well-funded groups, some with ties to terrorist organizations. There's meaningful impact when thousands of Jewish kids from all over the world share the amazing MOTL  experience. Both alumni parents and children come away more aware of their heritage and ready to combat apathy of others."
In his professional life in the insurance industry, Jim Slovin owned or worked in independent agencies for over four decades. For five years he served as Secretary/Treasurer of the Metro-South Independent Insurance Agents Association (MSIIAA), a trade organization he helped build to over 75 agencies. In addition, he won several industry awards for membership and programming.
In support of the Pan-Mass Challenge to benefit the Jimmy Fund of the Dana-Farber Cancer Center. Slovin participated in nine consecutive 180-mile PMC rides, logging over 10,000 miles while training and racing. His efforts raised over $31,000.
In the Jewish community, Slovin held leadership fundraising posts for the Brotherhood of Temple Israel of Sharon for over a decade, organizing golf tournaments and auctions. During his years as President of the B'nai B'rith Sports Lodge, he presided over three Boston Celtics Tap-Off Dinners drawing sellout crowds of over 1,300.. Every dinner was covered by the Boston sports media giving tremendous exposure to B'nai B'rith. As vice President of the Greater Boston Council, Slovin chaired the prestigious Covenant Breakfast which in the 1980s attracted over 600 people including leaders of all major Jewish organizations. He also, served on the B'nai B'rith District One Board of Governors and on the N. E.  Regional Board of the Anti-Defamation League.
On behalf of the Jewish Community Centers' capital drive for the Striar JCC in Stoughton in the late '80s, Slovin spearheaded several fundraising events that turned that vision into reality. For the Northeast Regional Junior Maccabiah Games, he chaired, produced and directed opening and closing ceremonies involving over 1,100 athletes, coaches and staff from 10 states and Israel. Since 2009, he has been active with the YMHA/Hecht House Alumni Association and currently chairs its Reunion Program Directory.
Anyone interested in learning more about MOTL and/or making a Major Gifts donation can contact Jim Slovin: jaslov1@msn.com.