Program Prepares Teens to Face Holocaust Deniers, Anti-Semitism
'March of the Living' Program Takes Teens to Poland and Israel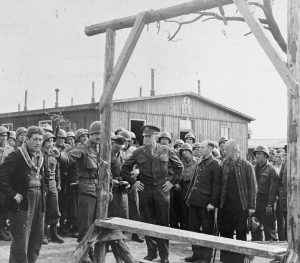 BOSTON, MASS. (Issued Winter 2019-2020) — World War II Supreme Allied Commander and future U. S. President Dwight D. Eisenhower predicted that someday there would be people brazen and hateful enough to deny the Holocaust ever occurred.
Today, 75 years after the end of WW II, amidst the worldwide rise of anti-Semitism, thousands of Jewish teens annually visit the Nazi death camps under the auspices of March of the Living to see where so much happened and to try to understand why.
Concerned by the Holocaust knowledge gap and denial of history that has become pervasive on college campuses — Irv Kempner, son of Holocaust survivors, has taken on the role of CEO of the New England Friends of the March of the Living (NEMOTL). MOTL is an international organization which annually brings some 10,000 Jewish teens from around the world to Poland and Israel to study the history of the Holocaust and to examine the roots of prejudice, intolerance and hate. (Visit https://motlnewengland.org/)
Touring a camp in 1945 (photo), Eisenhower told reporters, "Get it all on record now – get the films – get the witnesses – because somewhere down the road of history some bastard will get up and say that this never happened." The Washington Times reported that he ordered all available troops to go and witness the horrors he'd seen. He forced German citizens and officials from nearby towns to do the same. He understood that there must be a record, first-hand evidence and incontrovertible answers to those who would deny the Holocaust."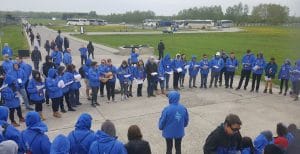 In a 2018 survey, 31% of Americans — and 41 percent of millennials in that group – admitted they don't believe that six million Jews were killed during the Holocaust.* Jonathan Greenblatt, CEO of the Anti-Defamation League (ADL), is concerned about the level of Holocaust knowledge, particularly among young people: "The farther we move away from the terrible events of the Nazi era, the more creative we have to be in connecting young people, for whom it is all ancient history, to the horrors that took place — and how it is relevant to today's society."
In December, 2019, the popular Elle magazine, with some 400,000 readers, selected two vocal anti-Israel anti-Semites for its list of '20 Women of Color in Politics to Watch In 2020.'
Irv Kempner, who recently named the first Board of Directors for NEMOTL, says, "The mission of this one-of-a-kind program is to ensure the perpetuation of March of the Living through our Teen Trip Scholarship Fund and other activities to create awareness, to promote and fund the Program. The MOTL experience instills the necessity to 'Never Forget' and the importance of supporting the State of Israel as the voice, refuge and shield of the Jewish People, and of continuing to share the stories of Holocaust survivors for generations to come."
He says, "Anti-Semites are growing bolder and the sources of anti-Semitism are getting more complex." For example, last month, a Ukrainian court called for the reinstatement of their consul in Hamburg who had been fired for making anti-Semitic remarks. On Facebook, the consul blamed Jews for World War II and posed for photos with a cake in the shape of Adolf Hitler's book Mein Kampf.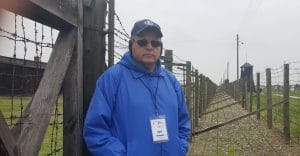 A CUNY survey showed that 95% of past teen participants say the MOTL trip strengthened their Jewish identity and their bond with Israel. 90% of respondents said MOTL made it more likely they would financially support Jewish causes. 90% said they're now more inclined to get involved when confronted with anti-Semitism, such as on their college campus."
Kempner, who has been on 9 MOTL trips, says, "The experience inspires participants to lead the Jewish community into the future vowing 'Never again,' and to fight all forms of prejudice. This experience insures a lifetime of community engagement. Enabling teens to participate is a proven investment in our future."   Website:   https://motlnewengland.org/
Jewish education veteran Aaron Kischel, an NEMOTL Advisory Board member and Director of the Chapter's Teen Programming, says, "I haven't seen a program better designed to solidify teen attachment to their history and heritage." He has been a docent educator on three teen trips.
MOTL is a 501( C ) 3 charity so contribution may be tax-deductible within IRS guidelines. Donations may be made online: https://motlnewengland.org/ or by contacting Development Chair Jim Slovin — jaslov1@msn.com  or call (508) 846-2448.  See the website for information on registration for upcoming Teen and Adult Marches.
*Source: Conference on Jewish Material Claims Against Germany
By Stan Hurwitz   / stanhurwitz@gmail.com