You can make a donation to New England March of the Living by making your check payable to: CJP-MOTL Scholarship Fund and mail it to:
      CJP-March of the Living Scholarship Fund
      c/o Combined Jewish Philanthropies
      126 High Street
      Boston, MA 02110
Credit cards are also accepted for scholarship donations to the CJP-MOTL Scholarship Fund.
To make an online donation, please go to Combined Jewish Philanthropy's secure online giving page.
Step 1:  Click Contribute to DAF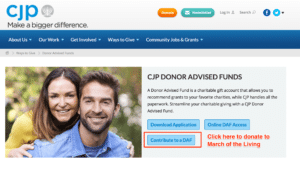 Step 2:  Apply the contribution to the following DAF: (please insert) March of the Living Scholarship Fund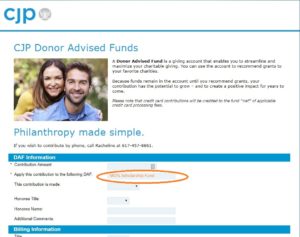 Disclaimer: screenshots are for illustrative purposes only. This is not a CJP website.