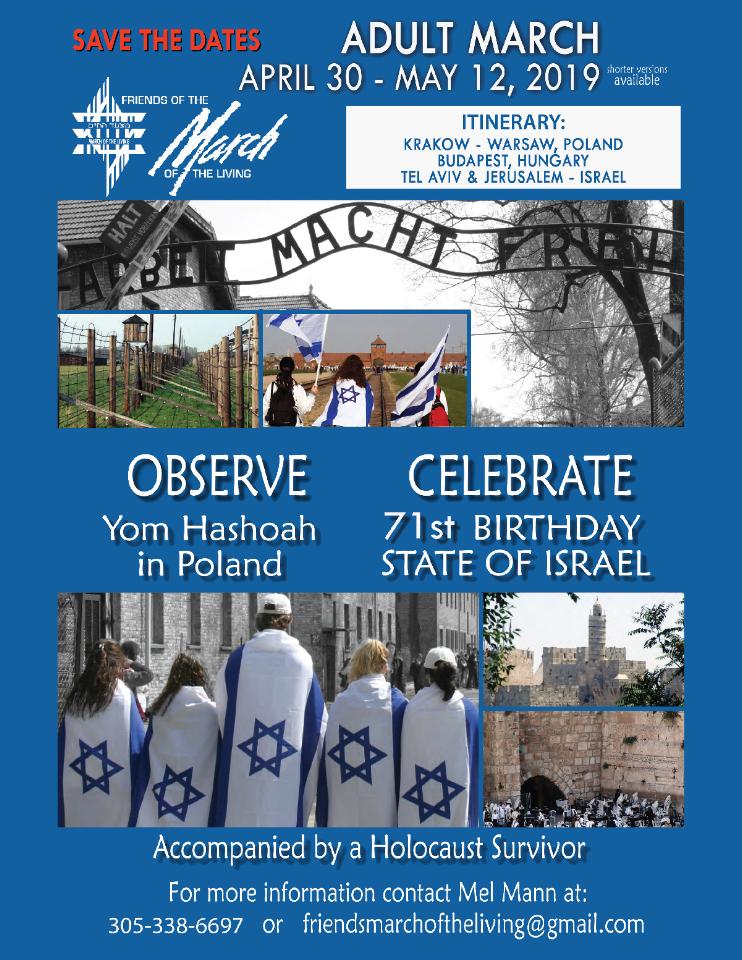 A number of you have expressed interest in attending an adult mission for the March of the living in 2019.
Well I have good news for you,we will have one in 2019. New England will join forces the Miami adults lead by the director of the friends of the March of the living, Melvin Mann.
Mel Mann is one of my closest friends. Mel took me on my first Adult MOTL in 2005. That trip resulted in my attending a 2006 teen mission the following year which inspired my efforts to create a Massachusetts chapter for our teens after I witnessed first hand the profound effect that this 20th century heritage trip had on deepening their Jewish identity and appreciation of our USA Democracy and Love of Israel.
Mel is an exceptional educator, guide and MOTL leader and I can't wait to join forces with him again next year. In 2019 we will explore the roots of the Jewish community and the impact of the holocaust in Poland and Hungary during the week of Yom Hashoah.
Afterwards we will be traveling together onto Israel and commemorating Yom Hazikaron and Yom Haatzmaut with 10,000 fellow marchers from 50 countries around the world who will celebrate with the Israelis.
Space on the is limited to the first 40 who sign up…we want this to be a meaningful and intimate Jewish learning experience….so decide soon. Mel already has 15 paid up for this 2019 MOTL trip of a lifetime. And I'm proud to say I'm one them… so come and join us and sign up soon.
Feel free to call me or contact Melvin man with any questions. Click here to apply.
You can contact Melvin Mann by email or cell phone at:
melmann1154@gmail.com
305-338-6697