Local group joins 13,000 teens from 50 countries on 'Holocaust to Revival' themed journey
Massachusetts teens joined peers from around the world to sprinkle earth from Israel on the grounds of the Madjanek Nazi death camp.
They visited the Tykocin Synagogue built in 1642, restored in the 1970s. Since WW II, there have been no Jews in Tykocin.
In Israel, they visited the Yad Vashem Children's Museum, celebrated Israel Independence Day in Haifa and Tiberias, prayed at the Western Wall, met Israeli peers.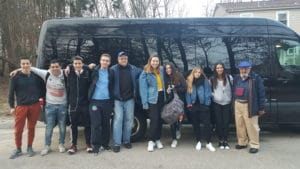 (Issued May 2018)  —  Eight Massachusetts Jewish teens joined with 13,000 others from 50 countries on April 12 as Israeli President Reuven Rivlin marked Holocaust Martyrs' and Heroes' Remembrance Day in a solemn procession from Auschwitz to the Birkenau concentration camp where an estimated one million Jews were killed by the Nazis in World War II.  The procession, also marking Israel's 70th anniversary, was part of the annual March of the Living (MOTL) pilgrimage that brings teens to Poland and Israel. Polish President Duda and 40 U. N. Ambassadors joined this year's March.
MOTL, now in its 30th year, has as its primary goal to teach lessons of the Holocaust through an emotional experience outside of school, and inspire participants to become knowledgeable, active leaders of the Jewish community.  Groups are accompanied by local guides, historians and Holocaust survivors. Plans for the 2019 trip – April 28 – May 12 – are already underway and registration forms and scholarship applications are available. Visit https://motlnewengland.org/  Since 1988, MOTL has brought 260,000 teens to Eastern Europe and Israel,
New England MOTL Chair Irv Kempner of Sharon, son of Holocaust survivors who has been on eight MOTL trips, , says, "This is the most exciting program of its kind – perhaps the only one designed to help teens strengthen their Jewish identity, build ties with their heritage and connections to Israel, and gain a better understanding of prejudice and how to combat it for the rest of their lives. It's the only one with the Poland-Israel mix."
New Bedford participant Micah Kantor, Brookline High Class of 2018, visited, reflects on the trip: "It felt as if experienced the life of a European Jew before and during World War II. The Polish part was so impactful —  jaw-dropping and insane. The Israeli experience was powerful and uplifting. The trip strengthened my commitment to make sure #neveragain becomes a worldwide mantra. I encourage more teens to take advantage of such an amazing opportunity." Addressing the teens at Poland's official memorial ceremony,  President Rivlin said, "So our brothers and sisters cried out, here, in this very place… I can close my eyes and still hear the weeping of the mothers as their children were ripped from their arms. From the time this railway line by which we now stand, was laid down, from the spring of 1944, the Auschwitz train station became the busiest train station in all of Europe." Referring to a proposed law making it illegal to accuse "the Polish nation" of complicity in the Holocaust and other Nazi atrocities, President Rivlin told the crowd gathered along the railroad tracks leading into Auschwitz, "We stand here… knowing there is the Holocaust, and there are Holocaust deniers, and the difference between the two is the truth. And we, who remember, who stand here, we know the truth will grow out of the earth."
Sharon High Class of 2018's Ari Kwitkin-Close said, "March of The Living is a once-in-a-lifetime opportunity to experience the incredibly stark contrast between oppression and freedom in the form of Poland and Israel. In Poland, there was the perfect balance of respect for where we were along with providing education on the terrible history. As soon as we landed in Israel, the group's mood changed. The air was sweeter, the area was prettier, life felt better. The trip that was meticulously planned to perfection."
And Brookline High senior Noah Mamane said, "The immense sense of Zionism and pride we gained in Poland made going to Israel more special than I could have imagined. Being in our homeland as we mourned its losses and celebrated its independence was something I will never forget. I don't think I will ever go on a program as special as the March and I highly recommend it."
Many MOTL participants benefit from scholarships made possible by generous donors. Donations of $1,000 to MOTL/New England are matched dollar for dollar by the Kempner Foundation. For online donations: https://motlnewengland.org/. To donate to the tax-deductible — 501 ( c) 3) charity —  to the extent allowed by law, mail checks to: CJP – Kempner Family Foundation, c/o Combined Jewish Philanthropies, Kraft Family Building, 126 High Street, Boston, Mass. 02110. To ensure proper credit, on the memo line write 'March of the Living.'
For general information, contact Irv@MOTLnewnngland.org / (617) 285-8620, or visit https://motlnewengland.org/. For Major Gifts donations, contact Jim Slovin – Jim@MOTLnewengland.org. For student 2019 applications and info, contact Aaron Kischel – Aaron@MOTLnewengland.org . See highlights of the 2016 trip at https://www.youtube.com/watch?v=LKTIg5tl0Us .                                                                                                                                                                     
– By Stanley Hurwitz   / stanhurwitz@gmail.com