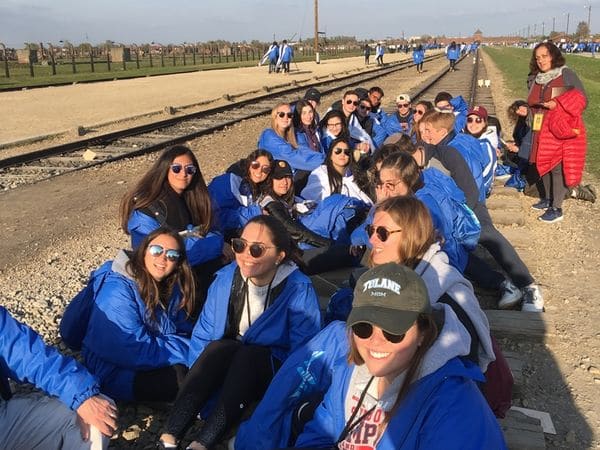 March of the Living Already Recruiting High School Seniors for 2018 Trip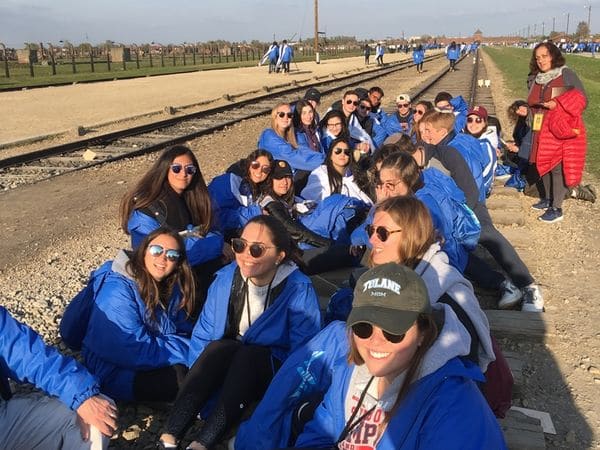 BOSTON, MASS. (Issued Spring 2017)  — "As my grandmother is a survivor of the Holocaust from Greece, and with Polish descent on my mother's side, this trip had tremendous meaning to me," said 17 year-old Chelsea Haime of Sharon (Mass.) after participating in the 2017 March of the Living (MOTL) to Poland and Israel. "It was an experience that I will hold with me for the rest of my life."  (PHOTO: MOTL teens sit on tracks to Auschwitz that carried millions to their deaths.)
Chelsea, a graduating senior from Sharon High, was one of three Jewish Massachusetts teens who joined with 8,000 peers from around the world for the annual heritage trip that transported them from the somber ashes of the Holocaust to the miracle of modern Israel.  An important component of MOTL is the unparalleled opportunity to study the history of the Holocaust and examine the roots of prejudice, intolerance and hate. The March of the Living itself is a 3-kilometer walk from Auschwitz to Birkenau as a tribute to all Holocaust victims. The 2018 MOTL is scheduled for April 8 – 22, 2018. Registration has begun.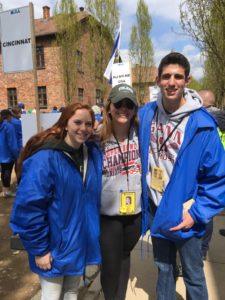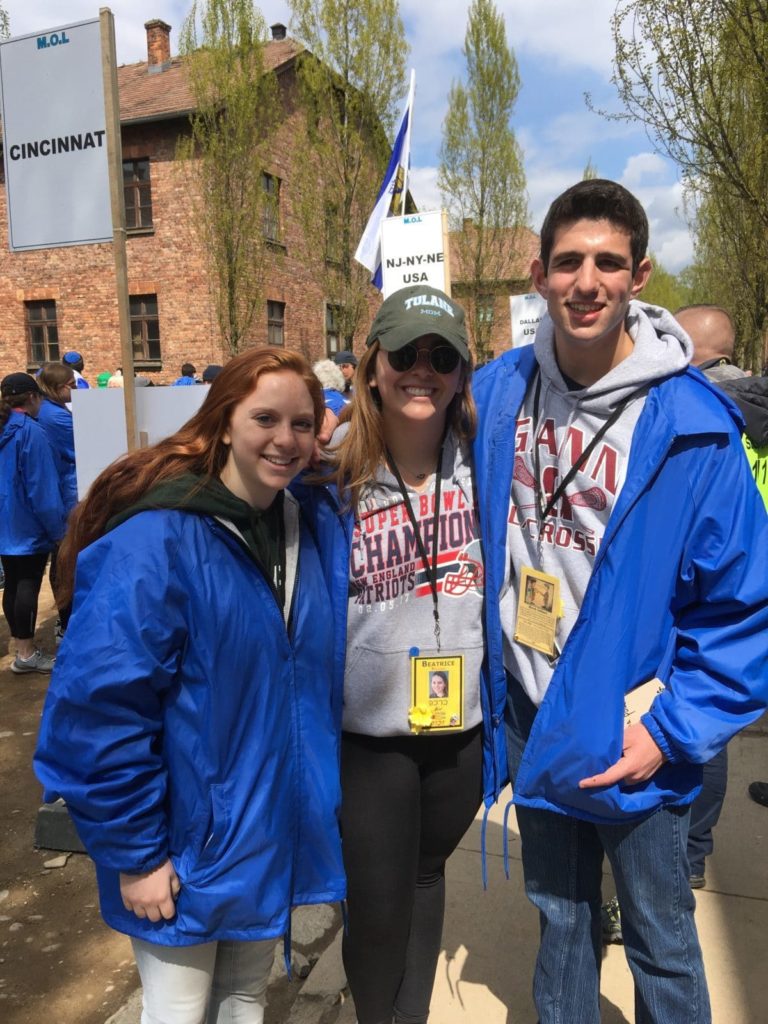 Chelsea's parents Alison and Bob wrote, "Thank you for Chelsea's March of the Living experience.   She loved it and really connected with the experience.  Her grandmother is a survivor so this trip had personal meaning to her.  She will remember this her entire life.  Thank you for everything. "  (PHOTO:  Mass. MOTL participants,  left to right: Chelsea Haime, Beatrice Fellman and Micah Salzberg.) 
Aaron L. Kischel, an award-winning community leader who has devoted his life to Jewish education and youth activities and a veteran of many such pilgrimages, served as a group leader for the Massachusetts/New York/New Jersey contingent. Trips are led by rabbis, historians, and teachers – and joined by Holocaust survivors who provide first-hand accounts.
He said, "In my five decades in Jewish education, I have not seen a program better designed to solidify teen attachment to their history and heritage. Through MOTL, teens gain a deeper understanding of the need to ensure a strong Israel, to see what the young State of Israel has created from the desert. With so much misinformation and anti-Israel propaganda on college campuses today, this firsthand experience has an emotional effect that lasts a lifetime and builds leaders for the next generation."
The annual Spring trip begins after Passover and is timed to coincide with three modern Jewish holidays: Kischel says, "Imagine marking Holocaust Remembrance Day in Poland where the Nazis murdered so many. Then imagine Israel's Memorial Day when the entire nation stops at the sound of a siren for two minutes of silence.  Our group visited the Calibri regional school outside Haifa which lost over 30 young people in war over the years. And imagine celebrating Israel Independence Day , first at the Western Wall, then with a party and sound/ light show with thousands of teens at the Latrun IDF tank museum. And imagine visiting ancient Tiberias on the Sea of Galilee, and an evening on Ben Yehudah Street, Tel Aviv's version of Fifth Avenue." While in Israel, there was time for teens to connect with Israeli relatives or friends.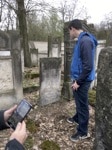 Participant Micha Salzberg, a graduating senior from Gann Academy,  said, "Nothing could have prepared for what it would feel like to stand in the cattle cars, walk through the gas chambers, and march with thousands of other teens in the place where so much of my family was murdered. Marching through the 'Arbeit Macht Frei' gate that my grandfather walked through as he was enduring the worst of man's evil will stay with me forever. That moment, surrounded by countless Jews of my age, is a testament to the failure of the final solution. And I am beyond proud to have been a part of that." Micha's dad, Stu, remotely led a memorial service via Skype.
Beatrice Fellman, also a graduating senior from Gann Academy, reflected, "To see where my great-grandfather was murdered and to immerse myself further into the history of the atrocity that my grandmother survived was an experience I will take with me forever. To actually see in person Auschwitz-Birkenau, the sites of mass graves and memorials was completely surreal…and now I have a deeper understanding of the effect Israel has on many people who live in fear that we could one day be targeted again. I have such a huge appreciation for the knowledge that I gained on this trip."
New England MOTL Chair Irv Kempner, son of Holocaust survivors and a retired business executive, is spearheading scholarship fundraising  and teen recruitment  for 2018. He says, "Surveys show that high school seniors who take part in MOTL become more engaged young men and women who know their history and the importance of the modern State of Israel. It's developing a new generation to learn the meaning of 'Never again.' Lessons learned stay with them for their entire lives, and they are well prepared to lead the Jewish People into the future. Even if you've been to Israel before, this is a whole different adventure."
Since 1988, MOTL has brought some 250,000 teens to Eastern Europe and Israel, teaching lessons of the Holocaust and inspiring them "to lead the Jewish People into the future."
The New England Chapter of MOTL has a newly redesigned website where this year's marchers posted real-time photos to allow friends, families and others to participate virtually.
See highlights of the 2016 trip here: