MOTL New England's Mission
The International March of the Living is an annual educational program, which brings individuals from all over the world to Poland and Israel, in order to study the history of the Holocaust and to examine the roots of prejudice, intolerance and hate.
Watch "EAGLES OVER AUSCHWITZ" on YouTube
Watch IDF pilots chosen from among those related to WWII holocaust survivors to Fly their F-15s from Israel to Auschwitz Poland to commemorate the loss of the 6 Million. It's a Never Again statement that had Israel been in existence during the WWII they would have been the voice, the refuge and the  shield of the Jewish people and might have prevented holocaust.
There's An Israel Bobsled Team?
October 24 at 8 p.m. at Temple Emanuel in Newton, Mass
Join us to hear Jared Firestone, 2022 Winter Olympic hopeful as he talks about how the March of the Living has impacted his life and led him to Israel and a Winter Olympic hopeful in Bobsledding.
Twenty-nine year-old lawyer / real estate broker Jared Firestone, a native of Hollywood, Florida, has been training for Israel's Skeleton National Team. Skeleton, a one-person version of the bobsled race, is an event where the competitor rides prone, head-first downhill on a sled, reaching up to 80 mph on a one-mile course. Currently the team includes three men and one woman.
To help with planning for the October 24 program, advance registration is requested.  RSVP Link .  Admission is free. Refreshments will be served.
Follow and support Jared Firestone's journey at www.jfireisraelslider.com, and on Instagram:  @jfireisraelslider. 
Join 13,000 teens from 50 countries!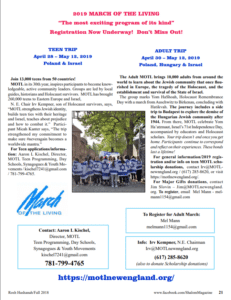 MOTL, in its 32th year, inspires participants to become knowledgeable, active community leaders. Groups are led by local guides, historians and Holocaust survivors. MOTL has brought 260,000 teens to Eastern Europe and Israel.
Registration for the 2020 MOTL is now open. The teen trip will be held April 17-May 1, 2020 and will visit Poland and Israel.
Learn more and apply for the teen trip here.
There is also a second trip for adults.
The adult march will be held from April 20th – May 3rd, 2020 and will visit Poland, Hungary and Israel. Learn more and apply for the adult march here.
The International March of the Living expresses its deep concern over the recent CNN special, State of Hate, which reported a dramatic and shocking increase in the rise of Anti-Semitism in the US in the last few years.
Click here to read the CNN Report and MOTL's response.
Teens from New England marched from Auschwitz to Birkenau concentration camps in Poland led by Israeli President Reuven Rivlin. Then, just days later, they celebrated Israel's 70th Independence Day in Jerusalem.